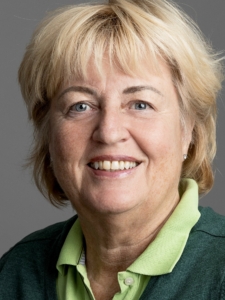 Elín Ebba Ásmundsdóttir
Framkvæmdastjóri
Hlutverkasetur
Elín Ebba Ásmundsdóttir, framkvæmdastjóri Hlutverkaseturs, hefur unnið við geðheilbrigðismál allt frá árinu 1979. Fyrst á geðdeild í Noregi, síðan á dagdeild Borgarspítalans og lengst af sem forstöðumaður iðjuþjálfunar geðsviðs LSH. Frá 1999–2017 starfaði hún einnig sem dósent við heilbrigðisvísindasvið Háskólans á Akureyri. Rannsóknarnálgun hennar var bata- og notendarannsóknir innan geðræktar.
Hún lauk handleiðslunámi fyrir fagfólk árið 1988, meistaraprófi í iðjuþjálfun við Florida International University í Miami í Bandaríkjunum árið 1998 og diplóma í fötlunarfræðum við Háskóla Íslands árið 2009.
Elín Ebba hefur hlotið ýmsar viðurkenningar fyrir störf sín og tekið þátt í fjölmörgum samstarfsverkefnum á sviði geðheilbrigðismála sem vakið hafa töluverða athygli. Hún hefur beint orku sinni í að breyta viðhorfum almennings til einstaklinga með geðraskanir, unnið að geðræktarmálum og barist fyrir fjölbreyttari valkostum í meðferðarnálgunum.
Elín Ebba hefur haldið fjöldann allan af erindum, námskeiðum og komið fram í fjölmiðlum í tengslum við málaflokkinn ásamt því að skrifa greinar um hann. Hún er hress, viðræðugóð, fordómalaus og opin og er þekkt fyrir sérstæðan og skrautlegan fatasmekk. Áhugamál hennar eru geðheilbrigðismál og bætt líðan almennings og hún getur talað endalaust um þessi hugðarefni sín.
Elín Ebba Ásmundsdóttir is an occupational therapist, director, and a former associate professor. She is a spokesman for the ideology that every human has something to contribute to society, and her special interest has been the mental health field.
Elín Ebba has worked mostly in institutions supported by the government. However she has committed most of her spare time to push forward ideologies she believes in. She has worked as an individual through her lectures and workshops, as a partner in some projects and collaborated in various projects. She has focused her energy on combating negative public perceptions towards individuals with mental illness and campaigned for more varied treatment services.
Elín Ebba has fostered, through direct support and guidance, some of the most innovative projects in the Icelandic mental health field, which have gained public attention and for some of them she has earned notable praise and awards. She started a project called "User Interviewing User" which gives work opportunities for individuals in recovery. It is a dialogue-based qualitative research approach to evaluate mental health services based on service-user experiences.
Her newest project is the Rolecenter (www.hlutverkasetur.is) a rehabilitation and activity centre set up to fight stigma and isolation with the main purpose of gaining or finding valuable roles again by staying active.
 Through her recovery research and involvement in educating the public, she has had great influence on shifting the focus from the "disease" to the user's strength, experience, knowledge and the possibility of recovery.
Elín Ebba has written numerous newspaper articles, peer reviewed articles, been interviewed in the media, newspapers, television, radio shows and given speeches at various venues, workshops and presentations to a variety of groups all over Iceland.