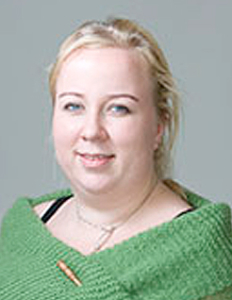 Helga Ólafsdóttir
Iðjuþjálfi
Hlutverkasetur
Helga lauk B.S. námi í iðjuþjálfun við Háskólann á Akureyri vorið 2008 og hóf störf hjá Hlutverkasetri í ágúst sama ár. Helga sinnir sérstaklega þeim sem eru á endurhæfingarlífeyri og þurfa aðstoð við að setja sér markmið og fylgja þeim eftir. Helga er einnig dugleg að taka nema í starfsþjálfun. 2021 gerðist Helga viðurkenndur markþjálfi.
Helga var ár sem skiptinemi í Paraguay og vann lengi við þjónustu og afgreiðslustörf áður en hún hóf nám í iðjuþjálfun. Hún elskar að dansa og er ZUMBA í uppáhaldi enda dansar hún og kennir ZUMBA víðsvegar um bæinn þegar hún er í stuði.
Hún er afar handlagin, hún saumar, heklar, prjónar og föndrar. Helga er hlý, úrræðagóð, röggsöm, fylgin sér, með þróaðan húmor sem fáir fatta. Hún fór að vinna með börnum 2016 en kom aftur til starfa í Hlutverkasetri eftir þriggja ára fjarveru. Hún fann að hjartað sló betur í Hlutverkasetri.
Helga Ólafsdóttir completed B.S. studies in occupational therapy at the University of Akureyri in the spring of 2008 and began working for Hlutverkasetur in August of the same year. Helga especially cares for those who are on a rehabilitation pension and need help setting their goals and following them through. Helga is also efficient taking on students for vocational training in occupational therapy. In 2021 Helga became a certified coach.
Helga was an exchange student in Paraguay for a while and worked for a long time in the service industry before she started studying occupational therapy. She loves to dance and Zumba is her favorite, as she dances and teaches Zumba all over town when she's in the zone.
She is extremely handy, she sews, crochet, knits and doodles. Helga is warm, resourceful, focused, obsessed, with an advanced humor that few people get. She started working with children in 2016 but returned to work at Hlutverkasetur after three years of absence. She felt that her heart beat more truly at Hlutverkasetur.