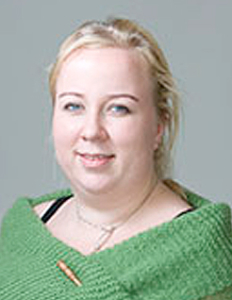 Helga Ólafsdóttir
Occupational therapist
Hlutverkasetur
Helga Ólafsdóttir completed B.S. studies in occupational therapy at the University of Akureyri in the spring of 2008 and began working for Hlutverkasetur in August of the same year. Helga especially cares for those who are on a rehabilitation pension and need help setting their goals and following them through. Helga is also efficient taking on students for vocational training in occupational therapy. In 2021 Helga became a certified coach.
Helga was an exchange student in Paraguay for a while and worked for a long time in the service industry before she started studying occupational therapy. She loves to dance and Zumba is her favorite, as she dances and teaches Zumba all over town when she's in the zone.
She is extremely handy, she sews, crochet, knits and doodles. Helga is warm, resourceful, focused, obsessed, with an advanced humor that few people get. She started working with children in 2016 but returned to work at Hlutverkasetur after three years of absence. She felt that her heart beat more truly at Hlutverkasetur.