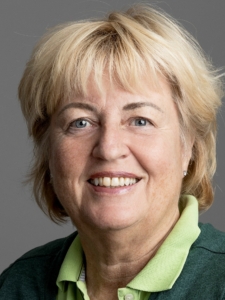 Elín Ebba Ásmundsdóttir
Director and Occupational therapist
Hlutverkasetur
Elín Ebba Ásmundsdóttir is an occupational therapist, director, and a former associate professor. She is a spokesman for the ideology that every human has something to contribute to society, and her special interest has been the mental health field.
Elín Ebba has worked mostly in institutions supported by the government. However she has committed most of her spare time to push forward ideologies she believes in. She has worked as an individual through her lectures and workshops, as a partner in some projects and collaborated in various projects. She has focused her energy on combating negative public perceptions towards individuals with mental illness and campaigned for more varied treatment services.
Elín Ebba has fostered, through direct support and guidance, some of the most innovative projects in the Icelandic mental health field, which have gained public attention and for some of them she has earned notable praise and awards. She started a project called "User Interviewing User" which gives work opportunities for individuals in recovery. It is a dialogue-based qualitative research approach to evaluate mental health services based on service-user experiences.
Her newest project is the Rolecenter (www.hlutverkasetur.is) a rehabilitation and activity centre set up to fight stigma and isolation with the main purpose of gaining or finding valuable roles again by staying active.
 Through her recovery research and involvement in educating the public, she has had great influence on shifting the focus from the "disease" to the user's strength, experience, knowledge and the possibility of recovery.
Elín Ebba has written numerous newspaper articles, peer reviewed articles, been interviewed in the media, newspapers, television, radio shows and given speeches at various venues, workshops and presentations to a variety of groups all over Iceland.